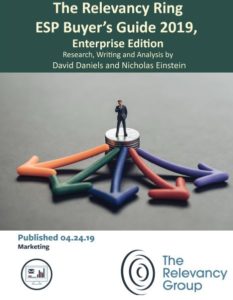 DOWNLOAD ESP BUYERS GUIDE

iPost recognized as a leader in The Relevancy Ring 2019 Enterprise ESP Buyers Guide.
iPost, the leading enterprise omnichannel marketing automation platform, announces its placement as a leader in the 2019 Relevancy Ring- Enterprise ESP Buyers Guide.
The Relevancy Group analyzed over 400 data points and over 10 enterprise marketing automation competitors, which included in-depth evaluations and scoring of platform, service, and support capabilities. Customer interviews played a big part in the validation and scoring of the guide. The guide rated iPost a leader in several critical categories: data management/integration, cross channel orchestration, testing and automation, and visual business intelligence and key areas of service tied to integration, technical services, and account services.
Awards include:
GOLD AWARD:
Integrated Deliverability Tools and services

GOLD AWARD:
Account Management

SILVER AWARD:
Technical Services

SILVER AWARD:
Integration Capabilities

SILVER AWARD:
Technical and Customer Support
iPost Top Rated in three key capabilities:
Automation and User Experience

RealTime Completeness and uniqueness

Reporting, Analysis and Data Visualization
Enterprise Customers Do More With iPost
iPost provides enterprise marketers everything you need (and nothing you don't) to harness all customer behavioral and transactional data for email marketing. All in an easy-to-use platform that enables marketers to do much more–putting power and control back into your hands.

iPost was founded by a team of veteran marketers with extensive experience implementing industry-leading ESP platforms. From this unique perspective, we've been able to imagine iPost from the ground up to excel where other solutions fall flat–empowering you and impacting enterprise digital marketing like never before.