Updated May 2023.
What's the secret to successful casino marketing to your gaming customers? What marketing tactics do casinos use to attract customers? How can you create an online casino marketing campaign that truly delivers results? These are all questions that will be answered about digital marketing for casinos in this guide on how to market to your casino gaming customers in 2023.
Here, we outline seven casino marketing strategies the gambling, casino, and gaming industry needs to implement in order to stay successful in a very fast-paced business world!
1) Digital Marketing
Digital marketing is an ever-evolving process that casinos and gambling brands must master to stay ahead of their competition. 
With new media platforms emerging daily, it's becoming increasingly difficult for traditional advertising methods like TV ads or billboards to compete with newer digital options. 
According to Ascendant Loyalty, winning casino marketing strategies boils down to understanding your players (target audience)
and providing relevant messaging to engage them. This is where using generational differences to your advantage comes to play.
2) Email Marketing
Email marketing has been one of the most effective digital marketing strategies for the past couple of decades. It's now one of the oldest as well. Like any other form of marketing, casino email marketing must be strategic, data-driven, and focused on your goals.

Maybe you're looking to drive signups on your website or app… Or maybe you want people to attend your next events, such as a poker tournament or concert. Maybe you're a resort casino in a place like Las Vegas looking to entice website visitors to book a stay. Whatever it is, you should personalize your message appropriately so that it resonates with your recipients and they know exactly why they should click through.

As a casino marketer, you want to accomplish things like:
Increase wallet share

Measure spend

Communicate across channels

Leverage data
Most importantly…Create an experience like no other for player development.
The iPost solution is proven to work consistently:
Increase email ROI.

Increase wallet share of customers.

Unlock the freedom to customize the player development journey.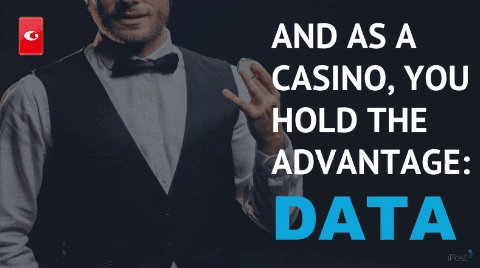 3) Player Nurturing
The gambling industry tends to look exclusively at paying players as their customers, but new data indicates that's no longer the standard. Rather, it's time for casinos and gambling sites to start nurturing their non-paying players to maximize their ROI.
It can take effort on both sides of the aisle—casinos and gamblers—to keep all parties happy (and playing) over time. It looks like casino companies could use a little help in that department. Player nurturing will be an important factor in achieving long-term profits—both on gaming floors and on digital screens.
4) Loyalty Marketing
Loyalty marketing is nothing new, but it's something that every industry should be doing. After all, what are companies trying to do with their online marketing? Grow their customer base, promote the brand, and increase sales! A loyalty program can achieve both of these goals—and more. 
By providing customers with rewards, discounts, exclusive access, and additional offers, customers have a reason to come back again and again. Loyalty programs aren't just great marketing ideas but smart business moves. After all, if you want your casino business to succeed in 2023 (and beyond), you need loyal customers who keep coming back time after time.

We recommend working with a company that specializes in loyalty marketing for casinos. 
5) Analytics & ROI Measurement
Applying analytics and measuring return on investment (ROI) is essential in any business, but it's imperative for casinos looking to optimize their digital marketing strategies. Establishing solid baseline metrics early will help your casino understand what content or advertising channels are yielding positive results. 
You'll then be able to replicate that success with ongoing efforts. 
Ensure the ESP you use provides reports on the specific baseline metrics you are trying to measure.
6) Creative Data Mining
According to the Online Gambling Global Market Report 2021, the global online gambling market is expected to grow from $64.13 billion in 2020 to $72.02 billion in 2021 at a compound annual growth rate (CAGR) of 12.3%. The market is expected to reach $112.09 billion in 2025 at a CAGR of 12%. 
It's safe to say that gambling is here to stay. Now that casinos have found new ways into customers' homes via sites like Twitch and Steam, what tactics will they need to implement over the next five years? 
The better the casino is at harvesting and analyzing customer data, the easier it will be for casino marketers to see hidden or potentially useful patterns in massive data sets. This will unlock highly effective email personalization and empower highly sophisticated customer journeys. It will also help build a direct mail strategy and benefit from better results than a randomly designed marketing approach.

Data mining is cost-effective long term and is one of the most important tactics the gambling and casino industry needs to implement for 2023.
7) Marketing Plan
Successful casinos have three types of marketing plans: 
Strategy

Campaign

Action Plan 
An effective strategy is generally at least two years long and should be reviewed on a quarterly basis. It's a high-level view of how you will win over your target market by anticipating your audience's wants and needs before they know what they are. Once you have a firm grasp on who your audience is, where they live, what they want to buy, when they want it, etc., creating campaigns becomes easier.

Every strategy should include multiple campaigns. These are generally reviewed much more frequently, such as monthly. Campaigns should be a mix of interesting, click‑worthy relevant content with a mix of automation to deliver the right message for you. 
Finally, the most important element of your marketing plan…The Action Plan. Any marketer can create a strategy, but what separates the masters of the marketing craft from the "average joes" is the ability to execute the action plan. 
Conclusion
We understand that getting your feet wet in casino marketing isn't easy. There are many moving parts and critical decisions that need to be made before you can truly call yourself a master casino marketer. 
However, by taking it one step at a time and personalizing your messages, you'll have an advantage over your direct competitors in 2023 and beyond. 
Just follow our simple steps above and you'll find success in your gambling and casino marketing. 
Talk to iPost
The future of casino marketing requires brands, companies, and organizations to be creative, agile, and responsive. To execute successful marketing strategies tailored specifically to their audience, businesses must take advantage of robust digital platforms. 
For example, platforms like iPost allow casino marketers to reach customers and create incredible and personal revenue-generating communication. 
If you're a casino owner or operator looking at ways in which you can develop your marketing strategy, talk to iPost to see how we can work together to modernize and grow your business.