When you hear the term "best practice" in email marketing for higher education, your mind whisks away to some magical place for a moment, allowing you to consider what life would be like if you had all of them in place.  Then reality hits, and you begin to question if any of those "best practices" are even doable inside your marketing organization. 
The truth is that "best practices" are simply guidelines written for the masses in marketing and are sometimes not even relatable to your vertical. 
There are fundamental email best practices like not buying lists, permissioning, handling of data, and ensuring that you comply with privacy and spam laws. However, there are no generally accepted practices around frequency, increasing open rates, DOW, timing, or creative that you should adhere to. 
We believe these are meant to be organizationally specific and are meant to be changed through testing.
The bottom line is that "best practices" in email marketing are what you and your organization make. There is no blueprint, and the "best practice" for a company that sells shoes should differ from those in higher education.  
This post is meant for modern and data-driven marketing in higher education. You won't find much value if this isn't you, so kindly find another one of our amazing blog posts that will likely be more appropriate for your vertical.
When researching and ideating for this post, I came across some past posts that you most certainly check out from our colleagues over at Emma and full fabric. Those posts lay the groundwork and provide some good ideas about email marketing and best practices for higher education. 
We hope to expand on those ideas, offer up some unique ways, and get you to think a bit more out of the box.
Let's dive in.
1.  Speak Human.
Nothing is a bigger buzzkill when the email copy sounds like it was written by some lawyer or super-marketer when describing something at your University. Think of your audience and then ask yourself if writing like a robot vs. like a human gives a better representation of who you are and the point you want to get across.  Here is an example:
Robotic:
Four Points University offers more than 185 undergraduate and graduate academic programs in business, communications, education, engineering, fine arts, health sciences, liberal arts and sciences, and technology. These high-quality programs incorporate global and experiential learning opportunities, preparing graduates to succeed in a complex world.
Human Speak:
Four Points University has academic programs for everyone who want to succeed. Whether it's business, education, engineering, technology, or something else, we invite you to check out what excites you. 
Imagine incorporating human speak into your email communications where you can get the same point across to an audience in a short but very concise way. There are opportunities to invoke a little more fun and curiosity to encourage engagement.
Remember, emotionality and connectedness might differ in a decision to attend or not.  Speaking human in email and even your subject lines doesn't make you any less professional; it just means that you know your audience and want to change what has traditionally been done, and it might put you ahead of your competition.
2.  Tell A Story.
The standard copy in most email campaigns is to sell or, at the very least, keep the subscriber engaged, but oftentimes we as marketers like to tout things that "we" care about and less about what "they" care about. Subscribers today want authenticity and the ability to make an emotional connection to their school, and one way to do that is through storytelling. You certainly cannot tell a story in every email, but what you can do is see if there is a story that can tie into what you want the recipient to take action.  
For example, if you are looking to send a fundraising email to the alumni segment, be sure to test a variety of story-like scenarios that would invoke the reader to remember their time at school and create an emotional connection around making a gift contribution. Story-based emails are great for segmented audiences and make for excellent message-based testing opportunities to learn and implement hyper-focused content. 
If you are not telling stories to garner emotion and engagement, start doing it.
3.  "Real" Images.
Outside of your home page, athletics, and student life pages, and emails? If so, please stop right now. If you can't already tell, I am big on real human connections, which doesn't stop at messaging.
I recently received an email from a prominent University that clearly used stock photography in describing their engineering and nursing schools, and it felt awkward. 
As often as you can, please use images in your email that are a true representation of your school. Nothing says laziness and impersonal connections, much like using a stock image of people standing in a conference room to describe how your business school prepares its students for the "real world." 
Full fabric mentions the use of eye-catching images in their post, but in my opinion, imagery needs to take on the form of more than just eye-catching.
Lastly, check how the images render on a mobile device using a service like Inbox Monster. (full disclosure: iPost has a partnership with Inbox Monster, which allows our customers to leverage their service)
4.  Timing.
Not every email needs to go out on Tuesday at 9 am or at the top of the hour on some random day of the week. While people read emails at all different times of the day and in various locations (trains, bathrooms, weddings, beach, dinner table, etc.), think of who you are targeting and what action you want them to take. 
A prospective student or parent isn't likely to look at their inbox at 10 am every Thursday about admissions, and the same would hold true of those big donors who only give once a year in August by you sending an email in April.  The best practice here is to learn your audience patterns, test timing and conversions, and have a B plan around engagement or non-engagement. If someone has a confirmed open or you sense that they engaged and didn't take the action you wanted them to take, it's okay to send an email for behavior. Consequently, if you identified that particular recipient had gifted the school every October, set up a series of emails leading up to and past their donation month using personalized content. 
Don't practice timing in the sense of sending emails on a particular day or time; rather, practice it based on what you are sending and who you are sending to, with the ability to maximize the conversion.  It's a fine line to cross and often confusing, but it centers around a fundamental change in defining success in your email program.
5.  Consistency.
When my father was alive, he worked at a University in the Chicago area, and he would comment to me that sometimes there was fragmentation amongst various areas at the school. A well-run email program is like a rowing (crew) team where everyone needs to be in sync to ensure that the boat goes fast and in the same direction. Suppose a University uses multiple systems to send emails on behalf of the University. In that case, that opens up a can of worms regarding things like brand consistency, messaging, lists, segments, privacy, and opt-outs. 
Universities need to have one place to protect assets and push down things like templates, logos, and creative to preserve consistency to avoid the dreaded "oops" and have optics into what other departments are sending and to whom.
6.  Minimalism.
Subscribers have limited attention spans these days. In fact, the average attention span is less than seven seconds, and nothing frustrates people more than trying to figure out the point you are trying to make in an email. Universities are not trying to "sell" merchandise like traditional retailers or get you to read the latest breaking news like publishers. University email programs are about educating, inspiring, and leading the reader to click on the email and let the website handle the heavy lifting. Minimalistic creative and copy for your emails are essential and should be proven to be effective through testing.  The goal is never to force the reader's decision while in the inbox.  You should want to get them to click and read. In fact, you might want to consider testing landing pages for effectiveness of conversion and engagement.
Save trying to content/copy barf everything into the email; make it simple and to the point.
7.  Choice.
Many organizations love to blast away in their email programs with little regard for consumer choice around expectations, which often leads to subscribers silently unsubscribing and hurting valuable areas of the program because they had no idea what they got into. Universities can fulfill subscriber desires and achieve email program eliteness by offering a choice of what to get. In many cases, people can choose things like Athletics, Alumni Relations, Giving, Admissions, Bookstore (merchandise), and more. Giving a choice either at the point of sign-up or along the way via a branded and easy-to-use subscription or preference center can mean the difference between an unsubscriber, complainer, or a long-term advocate and engager.
Give a choice to those that receive your universities emails and, for goodness sake, honor the choice.
Higher education email programs need and can set the standard in this competitive environment. If you don't have a place for people to choose what they want, let's chat further about that.
8.  Surprise! Delight!
Most people enjoy surprises, and even more, people love it when that surprise is meaningful or special that is personalized to them. Universities have a golden opportunity to take the cue of many successful organizations that send out surprise and delight emails based on either zero-party or first-party data.
8 examples of surprise and delight emails that your university can take advantage of: 
Birthday acknowledgment

Graduation Anniversary

Sign up anniversary

Graduation countdowns

Anniversary of purchasing something (tickets/merchandise)

Anniversary of gifting

Countdown to starting as a freshman
The list goes on and on, but imagine being able to send out emails so personalized, that the recipient is not only surprised by how you know this, but be so enthusiastic about wanting to convert/engage in your email because an of that subtle, yet powerful use of data to make them feel amazing. The best advice is to start slowly by understanding what "useable" data you have to create this surprise and delight program and then map out a creative and cadence strategy to build on within your respective departments.  The goal is to stand out amongst your "competitors" in the use of data in a fun and exciting way.

These automated emails are key to creating a more personalized experience which leads to #9.
9.  social. SOCIAL! SOCIAL!
In Emma's 8 Email marketing best practices for higher education post, they talked about the importance of social and email integration, which is great. They gave a great example from Syracuse University about using a hashtag in their email for fundraising purposes. 
In our opinion, that is just the start of how Universities can integrate social in email and vice-versa.
It all starts with collaboration of a calendar because, like anything, the social and email channels are fragmented in what they are posting/saying, and nothing says unsynchronization like mixed messaging in two very powerful channels.  
To be clear, there doesn't need to be a complete alignment between the two, but it always helps to work together rather than separately, as the audience is likely the same.
6 ways to integrate social media and email marketing:
Use comments from social channels inside your email creative

UGC, specifically from Instagram, as images inside your email creative

A blended campaign of email and social where subscribers can interact with social channels as a result of a CTA.

Leveraging social channels for email acquisition.

Leverage email to increase social channel awareness and interaction.

Virtual scavenger hunts for Alumni where one channel drives engagement to another for a fun and interactive experience.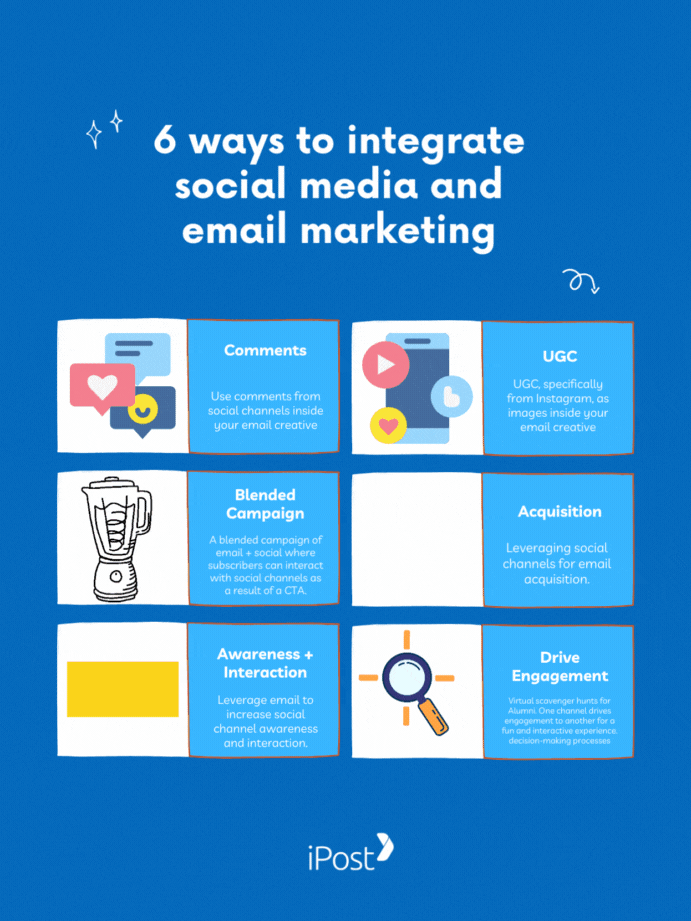 Remember, it's not Social vs. Email; it's social and email. When tested and nearly perfected, it is an amazing and super powerful way for people to make that emotional connection to your University.
Bonus.  Planning.
Planning is not fun, and it sure isn't the sexiest best practice, but it is a necessary evil if you want your email program to shine above other colleges and universities. Planning involves having a solid calendar of campaigns across channels and a testing calendar on the thing you want to learn and then change about your email program.
As a university, your core is around learning, and what better way to foster that core is through a testing plan?  It's hard to start testing, but once you do, it becomes addictive. Test plans are hard to come up with, which is why at iPost, we have created a test plan blueprint that we are happy to share with you.
Visit our higher education email marketing page and request it, and if you want, we would be happy to walk you through it without strings attached. 
Final Word
Thank you for reading our best practices for higher education post. As mentioned, this is by no means a rigid list of best practices because, ultimately, higher education marketers like yourself, are in charge of finding out what "YOUR" best practices are good for your University. 
Think like a subscriber when you are about to send an email out, and not like a marketer.  The best email marketers know their audience, adapt to them, and consistently strive for iterative innovation. It's not just and email address, or some random targeted audience, its a human with emotions and the power to change the channel.
The student, the alumnus, the donor, the fan, the parent, and even those with a vested interest in seeing your University succeed are in charge of how you run your program. Let them give you signs of what and how to change, and then listen to them.