What makes the best franchise email templates? 
Many factors go into writing franchise emails that convert well, but there are some common elements that any franchisor can include in their email campaigns to help boost the chances of conversion and engagement. 
While writing an email may seem like a relatively straightforward process, Franchise owners may often rely on their marketing teams to create the outgoing emails. Unlike small businesses or eCommerce brands, franchise owners must consider things like multiple locations, brand consistency in messaging, and different markets depending on each franchise location. 
Sure, it's easy to suggest that franchises could hire their own marketing team to handle emails for each location. But that would be an incredibly costly mistake! Doing this will lead to lost revenue, disjointed and broken brand messaging, and a lack of brand awareness and trust.
Every Franchise Needs an Email Marketing Strategy
Email continues to be one of, if not THE most effective form of advertising—especially when combined with social media and other web channels. In fact, email marketing effectiveness rates were trending higher in 2021.
While there are a number of email services out there that make sending bulk emails relatively simple (e.g., MailChimp, iPost), franchises still need their own branded email templates. 
These templates serve as both a way to increase brand recognition and build trust with potential customers. 
In order to increase brand awareness and boost sales, a franchisee must consider creating its own customizable templates. 
Here are tips for creating better franchise emails…
How to Stand Out – Email Marketing Best Practices
There's nothing worse than getting random sales emails with no context. Especially when you don't know who they are and may never have heard of their business before. 
That's why it's incredibly important to personalize, automate and communicate appropriately in your email marketing campaigns.
How do you create an email that stands out in a sea of spammy emails and aggressive subject lines? 
Follow these best practices:
Franchise Email Templates (That Promote Brand Continuity) 
As a franchise marketer, you're always going to want to make sure that your marketing campaigns are following your brand guidelines so as not to confuse your customers. If you're giving your marketing team free rein on designing campaigns without any supervision, then it's impossible for you to know if they're using the right branding or not.
There's no need to worry about branding when you make your email templates accessible for all of your franchisees!
Depending on the email service provider you are using, you should be able to approve all emails before your franchisees send them out, as you can with our iPost for franchise email marketing platform.
Email Segmentation (For Message Personalization)
It's important for business owners to take care of their email lists. One example of how they can do this is by segmenting it based on the location of the customer – which will change depending on how big a company is – and what kind of product or service they're selling.
One effective method of segmenting an email list is by sending messages tailored specifically to consumers who prefer specific products, promotions, or services. 
Doing so increases sales and customer satisfaction because each person will feel like the company put some time into designing something just for them.
According to Klaviyo, these are 9 important segments to consider:
Product interests

Type of email

Frequency

Location

Gender

Website interaction

Email engagement

Purchase quantity and value

Customer satisfaction
Segmented emails are better than entire list broadcast emails because they attract more attention from specific audiences. An example would be a restaurant chain in California sending an email to a person in New York about an exclusive coupon only valid at the restaurant locations in California.
Create Local Marketing Campaigns
Obviously, with franchise marketing, brand consistency is everything, but that doesn't mean you should neglect local campaigns. 
Only after you segment your email lists properly and develop email templates should your franchise then begin to utilize local campaigns. 
This is especially important when trying to build more brand awareness for specific locations or if the franchise is opening a new location. 
Another example is for clothing store franchises. If you wanted to announce that your location recently obtained stock of sports apparel for your hometown team, this type of messaging is necessary to be segmented depending on the person's location.
Retargeting (Middle of Funnel and Bottom of Funnel Marketing)
As a franchise owner, you are wearing many hats, running many different types of campaigns, and trying to capitalize on traffic opportunities. Of all the various types of marketing tools available, retargeting is another important and cost-effective tool to supplement marketing efforts and help better engage your audience.
Retargeting tools enable you to better understand how your audience is interacting with your business, which allows you to build more personalized emails based on specific behaviors.
For most websites, only 1%-5% of web traffic converts on the first visit. Retargeting is a process designed to help companies reach 95-99% of users who didn't convert right away.
In fact, ReTargeter found that email retargeting had an impact on upsells, increasing them by 3-5%
Compelling Yet Professional Franchising Email Templates
All franchise marketers can use email marketing as an efficient, personal, and easily scalable form of communication. Since most people have access to email at all times, they can choose when to open your message and even delete it without having to read it. To make sure your franchising emails don't end up in that category, you need compelling yet professional franchise email templates.
Here are some ideas on how to create effective franchise email templates that will help you increase business.
Email Newsletter
Email newsletters are the most common form of emails sent out to subscribers. Newsletters are excellent for sharing all your brand's news, updates, and original content.
Newsletter templates come in many forms, some good, some bad. One tip to keep your templates effective is to maintain a uniform design layout. Be sure to use branded imagery to grab your audience's attention while keeping the copy to a minimum and always make sure you properly call out any actions you are trying to make the audience take.
The Welcome Email
The welcome email, or welcome series, is one of the most important emails that you send to your audience members.
What makes a great welcome email?
Well, there is not a "best format" to follow, unfortunately. Welcome email content and template depend on a variety of things such as business goals, specific campaigns, niche industry, type of business, etc.
That said, there still are components to include that can help your emails stand out and connect with your intended audience.
These may include:
Email Subject Line
Incentives
Relevant Content
Personalized Content (One-on-One Style Conversation)
Compelling Imagery
Custom Offers
Straight Forward Call to Action
Clear and Easy Opt-Out Process
Image Alt Text
Franchise Fees and Royalty Rates
Welcome Email Example:
Franchise Development – New Franchise Sales
Franchise development priority is at an all-time high. The trend continues to rise with companies looking to expand through franchising. To help you develop your franchise development team and prepare yourself, you must use franchise development email templates and automation to gain a competitive advantage in your industry.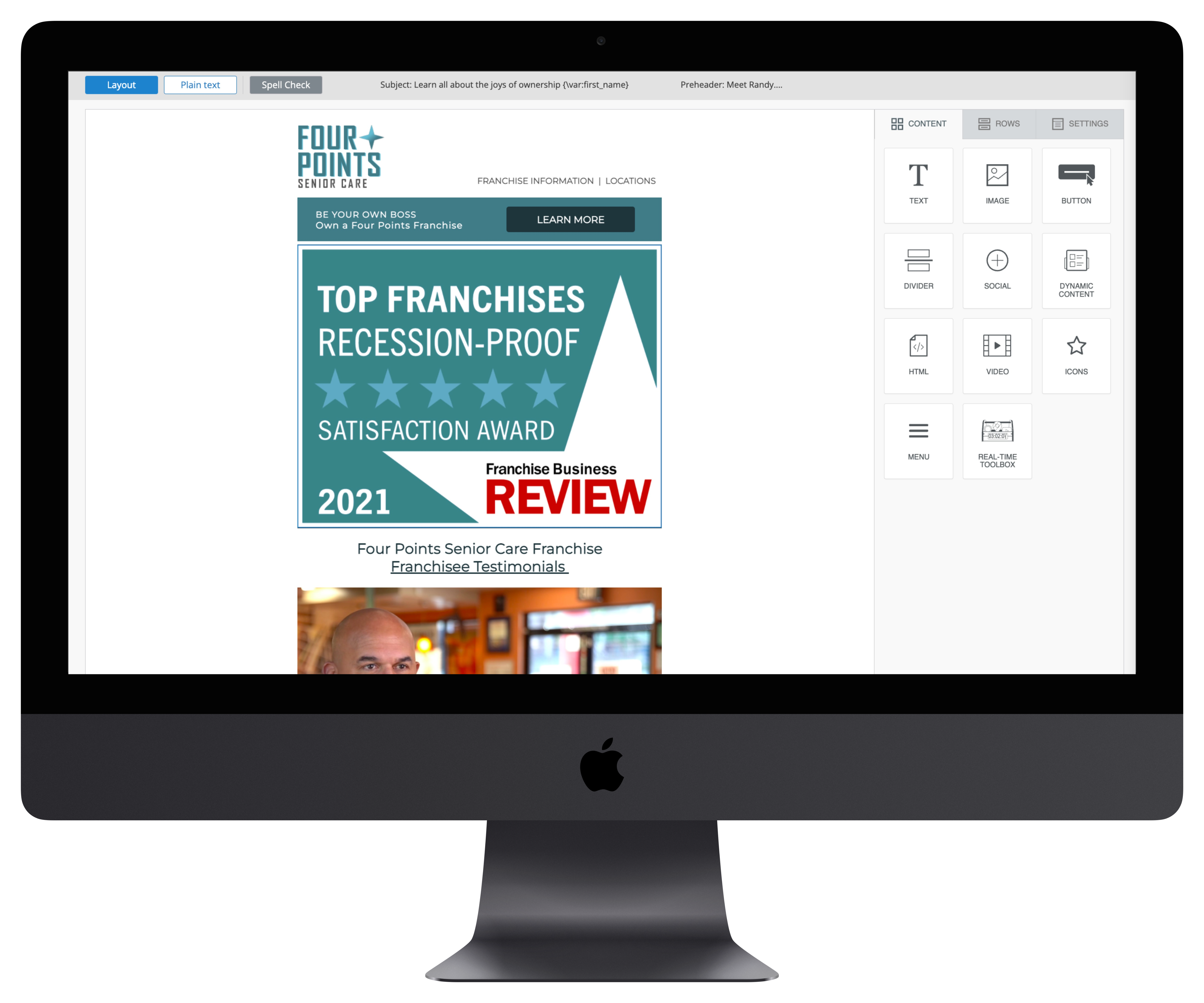 Bonus: Areas For Franchise Development
Broker Automation
Nurture Automation
Engagement Scoring Automation
Read Email Marketing For Franchise Development to dive into each area.
Final Thoughts
Franchises are uniquely positioned to provide consumer and business help to a community, but it takes more than a few emails to convince potential franchisees that they're in good hands.
The best franchise email templates should have the right information–from franchise fees and royalty rates to customer support and a simple call to action–but they should also be designed and communicated with brand consistency.
Everything from their words down to their formatting needs to make potential buyers feel confident about handing over their hard-earned cash–and that starts with knowing how your emails get opened, read, and clicked on.